Traditional Kazakh cuisine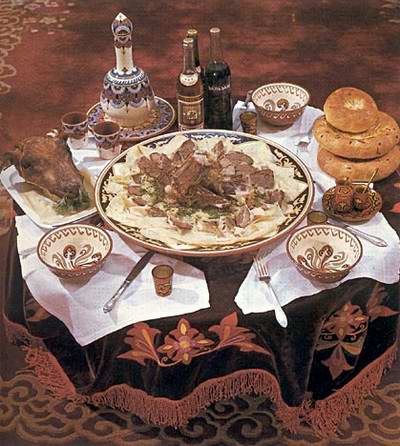 A main characteristic of Kazakh people has always been hospitality. Guests are greeted warmly and welcomed to the table with plenty of food (which we Kazakh's call "dastarkhan"). The arrival of guests has always been a feast in the house.
First, guests are offered dairy drinks such as** kumys (mare's milk: naturally containing vitamins B1, B2 and B12, pantothenic, folic acids and biotin), **shubat (camel's milk: normalizes the pancreas, intestine, liver; strengthens the nervous system, increases the body's resistance to infectious diseases) or airan (yeasted cow's milk: helps digestive system).
Guests are sometimes served appetizers made from meat. For example, kabyrga (lamb's breast) is served with cooked lettuce, carrots, and onions.
The other delicious appetizer is baursak; fried dough.
The main dish of Kazakh cuisine has always been beshbarmak. **Beshbarmak is prepared from mutton or beef. The delicious meat is served thinly rolled out with boiled pieces of dough. The perfect complement to the dish is a rich fragrant broth called **sorpa.
**
**
When guest are full the hosts serve hot tea, usually with milk. Then the deserts are put on the table. Kazakh traditional deserts are** zhent ** (sweet millet), irimshik ( something like sweet cheese), **kuimak **(almost like pancakes) and **tokash **(buns).
And of course, all of the above is supported by long talks, recalling funny stories and playing national musical instrument; the dombra.
Photos courtesy of bilu.kz