Unity Day – May 1 in Kazakhstan!
By Dena Sholk
Celebrated as International Labor Solidarity Day during the Soviet Union, May 1 is celebrated in Kazakhstan as Unity Day! In the words of President Nazarbayev, "The Spring Unity holiday will bring all the ethnic groups living in our country even closer together. This will be one of our most important holidays created after our common home-country – Kazakhstan – obtained the Independence 20 years ago."  National Unity Day is a federal holiday, and as such, all Kazakhstanis will be free from work.
In true Kazakh tradition, festivals and parades will be held in cities throughout the country. The purpose of National Unity Day is to celebrate the diverse ethnicities inside Kazakhstan. In previous blog posts, I have written about the 120 different nationalities inhabiting Kazakhstan. One of the really neat things about commemorating a holiday that celebrates the unity of a diverse population, is that every city has its own twist on the holiday. 
In Pavlodar, for example, the day begins with a parade featuring the traditional attire of different ethnic groups. A multi-cultural lunch and theatre performance marks the mid-day celebrations, while an afternoon concert is held in the local hall, "House of Friends." And at night, there is a disco party to be held for the city's young population. 
In Kyzylorda, over 4,000 people are expected to come to the May 1 celebrations in Kyzylorda, where Kazakh music sensation Roza Rymbayeva will perform.
Meanwhile, Almaty is celebrating the launch of biking season. As seen in the Russian-language poster obtained from Vkontakte.ru below, the "Opening Motorseason 2013" event includes a show with a dance mob, go-go girls, a moto-auto show and a lights show. Tickets for the concert are on sale through the Meloman website. For Almaty's less adventurous residents, there will be a traditional unity day parade in Abay square.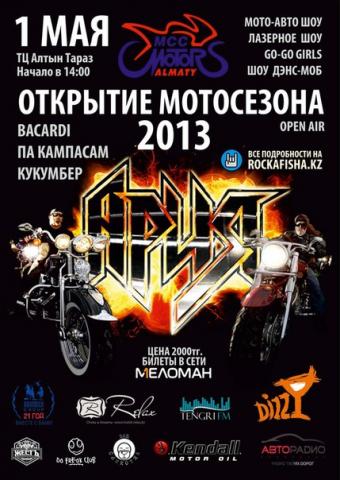 We wish all residents of Kazakhstan a wonderful Unity Day and are excited to see the diverse ways Kazakhstanis celebrate the holiday!